---
Directions by car
Heinsberg is easy to reach by car from the Netherlands via the A2 and A73 from the north and south. As soon as you have left the A2, Heinsberg is already signposted. If you want you can also reach Heinsberg via the highway from Roermond and Sittard. Another possibility is to reach Heinsberg via the German freeways A46, A57 and the A61.
Directions by public transport
Directly northeast of downtown Heinsberg is the train station, which offers connections to Aachen and Mönchengladbach. There are also bus connections from Heinsberg to Roermond, Geilenkirchen and Erkelenz.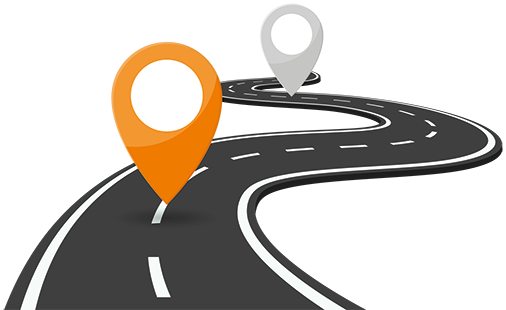 ---
The city of Heinsberg
Heinsberg is located in the district of Heinsberg in the German state of North Rhine-Westphalia. It is the most western city in Germany and has about 42,000 inhabitants. The city is located about 32 km southwest of Mönchengladbach and about 35 km north of Aachen. The Dutch cities of Roermond and Sittard are about 20 km away.
The town of Heinsberg has a long history and probably already had inhabitants in the 1st century. On the site of the current clinic, which was rebuilt in 2018 and 2019, there are still remains of a Roman path and parts of the old city wall (to be seen through a glass plate in the floor of our neighbors (S. Oliver). Also in the rest of the city are still many sights to visit.
---
The clinic is located on the ground floor and 1st floor of the building "Heinsberger Höfe" on Hochstraße 154 in Heinsberg, directly next to the Heinsberg Hospital. The entrance of the building is on Hochstraße 154, the entrance of the clinic is on the 1st floor (reachable by elevator or stairs).
Because our clinic is located in the center, directly in the shopping street, we do not have our own parking spaces. However, there are many possibilities in the immediate vicinity:
A large parking lot on Gaswerkstraße or the streets around it. These are free of charge and therefore very well frequented. The clinic can be reached on foot in a few minutes.
A parking lot on Liecker Straße. For only a few euros you can park here all day. The clinic can be reached on foot in 5-10 minutes.
A parking lot at the Westpromenade (chargeable up to max. 2 hours). The clinic can be reached on foot in 5- 10 minutes.
There are many other parking facilities in the city, which are subject to fees and can be paid in advance only for a maximum of 2 hours. Parking fees can also be paid in real time using EasyPark app (parking can be flexibly started, stopped or extended).
Please note that parking on all streets around our center is solely allowed in the driving direction. You may be fined for parking against the direction of travel.
---
Kinderwunschzentrum Heinsberger Höfe GbR
Medizinische Kooperationsgemeinschaft
Drs. Willem-Jan S.S. Cuypers
Drs. Nerissa B.E. Cuypers
Fachärzte für Frauenheilkunde und Geburtshilfe
Schwerpunkt gynäkologische Endokrinologie und Reproduktionsmedizin
Dr. Ralf Böhm
Diplom-Biologe
Hochstraße 154
52525 Heinsberg
Germany
Phone
+49 (0) 2452 99 66 - 900
Fax
+49 (0) 2452 99 66 - 910